Revue de presse égyptienne
Revue de presse égyptienne compilée régulièrement à partir du Bulletin d'Information Archéologique (BIA) qui paraît sous le double parrainage de l'IFAO et de la chaire « Civilisation pharaonique : archéologie, philologie et histoire » du Collège de France sur le site :
http://www.egyptologues.net/archeologie/bia.htm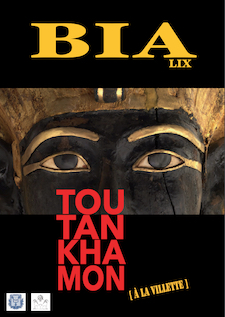 Dernier BIA paru
:
BIA 59
Revue mise à jour le 31 mars 2021.
I - Recherches et découvertes archéologiques
II - Restauration, préservation
III - Musées
IV - Expositions archéologiques
V - Thèmes généraux
I - Recherches et découvertes archéologiques
Egypt Today du 16 mars 21 : Hussein Abdel Basir denies existence of burial chamber at Pyramid of Cheops…
Egyptologist and Director of the Museum of Antiquities of the Bibliotheca Alexandrina Hussein Abdel-Basir commented on the findings of Egyptologist Chris Naunton. Read Full Story…
Egypt Today du 13 mars 21 : Egypt uncovers Mud brick buildings dating back to the fourth, seventh centuries AD in Bahariya Oasis…
(Angy Essam, "", , March 13, 2021).
Egypt uncovered Mud brick buildings dating back to the fourth and seventh centuries AD in Bahariya Oasis. Read Full Story…
Egypt Today du 10 mars 21 : Recent study on crocodile mummies reveals how ancient Egyptians revered them…
Ancient Egyptians were able to mummify animals, including cats, monkeys, and crocodiles. Read Full Story…
Egypt Today du 9 mars 21 : Recent study: Oldest pet cemetery is located in Egypt…
Ancient-Origins website sheds light on an Egyptian cemetery of animals previously discovered in Berenice, on the Red Sea coast. The history of the cemetery dates back about 2000 years. Read Full Story…
Al-Ahram Hebdo du 24 fév. 21 : Du nouveau sur la mort de Seknenrê Taa II…
Un examen tomodensitométrique de la momie de Seknenrê Taa II a permis de dresser un nouveau scénario de la mort de ce pharaon qui a combattu les Hyksos. Explications Read Full Story…
Ahram Online du 17 fév. 21 : CT scans of mummy of ancient Egyptian King Seqenenre-Taa-II reveal circumstances of his death…
A CT-scan study of the mummy of King Seqenenre-Taa-II, whose death eventually helped the expulsion of Egypt's invaders and reunited the kingdom, revealed new details about how the King died. Read Full Story…
Daily News Egypt du 17 fév. 21 : CT scan on Pharaoh Seqenenre-Taa II mummy reveals cause of death…
Ancient Egyptian king was killed while fighting invaders, embalmers skilfully concealed head wounds. Read Full Story…
Egypt Independent du 17 fév. 21 : CT scans of Egyptian king's mummy unravel details about his death…
Modern medical technology has helped tell the story of a king in ancient Egypt who was martyred for the sake of reunifying the country in the 16th century BC. Read Full Story…
Egypt Today du 17 fév. 21 : Recent Egyptian study on the Pharaoh Seqenenre Tao II reveals new secrets about his death…
Renowned Egyptian archaeologist Zahi Hawass posted on his Facebook page a scientific paper on the death of the Egyptian Pharaoh Seqenenre Tao published by Frontiers in Medicine, and carried out by Hawass in cooperation with Sahar Selim, a professor of radiology at the Faculty of Medicine, Cairo University. Read Full Story…
Egypt Today du 14 fév. 21 : Did a Russian mission find ships dating back to the Ptolemaic era in Alexandria?…
The mission of the Russian Archaeological Academy of Sciences' Egyptology Center announced the discovery of the underwater remains of merchant ships dating back to the Ptolemaic era in the Anfoushi area, west of Alexandria. Read Full Story…
Daily News Egypt du 4 fév. 21 : Ancient Egyptian mummy featuring rare painted mud shell layer uncovered…
Radiological imaging of a mummified individual from the late New Kingdom of Ancient Egypt has resulted in the discovery of a rare painted mud carapace layer within the body's wrappings. Read Full Story…
Egypt Today du 21 déc. 20 : 2020: Year of Egyptian archaeological discoveries…
During 2020, Egypt's Ministry of Tourism and Antiquities announced a set of important archaeological discoveries, which were accomplished through the Egyptian mission. Read Full Story…
Egypt Today du 16 déc. 20 : Cigar box in Aberdeen hid 5000-year-old Egyptian artifact for over 7 decades…
An ancient Egyptian artifact belonging to the Queen's Chamber of the Great Giza Pyramids, that have been lost for decades, was found in Aberdeen. Read Full Story…
Egypt Today du 13 déc. 20 : 3,500-year-old Egyptian scarab discovered in a cemetery in Cyprus…
Prospectors in Cyprus discovered a series of exciting discoveries, including artifacts dating back 3,500 years, during the Bronze Age. Read Full Story…
Abydos
Egypt Today du 17 fév. 21 : Egypt's Min. of Tourism & Antiquities reveals history of beer in ancient Egypt…
The archeological discoveries in Egypt continue. The joint Egyptian-American archaeological mission working in North Abydos, Sohag, and headed by Matthew Adams from New York University, and Deborah Fishak from Princeton University, has recently unveiled what is believed to be the oldest brewery factory in the world. Read Full Story…
Egypt Independent du 15 fév. 21 : Archaeologists uncover world's oldest high-production brewery in Egypt…
A joint Egyptian-American archaeological mission, headed by Matthew Adams of New York University and Deborah Vischak of Princeton University, have uncovered what is believed to be the world's oldest high-production brewery at north Abydos, Sohag Governorate. Read Full Story…
Daily News Egypt du 14 fév. 21 : Ancient Egyptians knew how to party! World's 'oldest' brewery unearthed…
A joint Egyptian-American archaeological mission working in the North Abydos area – Sohag now – has uncovered what is believed to be the oldest mass-production brewery in the world. Mostafa Waziri, Secretary-General of the Supreme Council of Antiquities, said that the factory is likely to date to the era of King Narmer. Read Full Story…
Egypt Today du 14 fév. 21 : Egypt discovers what is believed to be the oldest brewery in Abydos…
The joint Egyptian-American archaeological mission, headed by Dr. Matthew Adams of New York University, and Dr. Deborah Fishak of Princeton University, working in North Abydos, Sohag, has uncovered what is believed to be the oldest high-production brewery in the world. Read Full Story…
Ahram Online du 13 fév. 21 : The world's oldest industrial-scale brewery may have been uncovered in Egypt…
An American-Egyptian archaeological mission team, excavating in the northern part of Abydos archaeological site in Sohag, has uncovered evidence for what may be the world's oldest industrial-scale beer production. Read Full Story…
Saqqâra
Egypt Today du 31 déc. 20 : In 2021, Saqqara will continue to reveal its secrets, amaze the world…
In November, in an international press conference attended by more than 300 members of local and foreign media and press members, the Ministry of Tourism & Antiquities announced another big discovery by an Egyptian mission. Read Full Story…
Egypt Today du 27 déc. 20 : New archaeological discovery in Saqqara to be announced early 2021…
In 2021, Egypt's Ministry of Tourism and Antiquities is preparing to announce a large archaeological discovery. Read Full Story…
Egypt Today du 14 déc. 20 : New archaeological discovery in Saqqara to be announced early 2021…
In the early hours of December 14, Minister of Tourism and Antiquities Khaled el-Enani, accompanied by renowned archaeologist Zahi Hawass and General Secretary of the Supreme Council of Antiquities Mustafa Waziri, inspected the excavations of the Egyptian archaeological mission working next to the Pyramid of King Teti I in the Saqqara Antiquities area headed by Zahi Hawass, which resulted in the discovery of burial wells containing coffins and huge archaeological finds from the New Kingdom era. Read Full Story…
Egypt Today du 12 déc. 20 : Colourful coffins of Saqqara among the 10 most important archaeological discoveries of 2020…
For the third year in a row, the discoveries of Saqqara archaeological site is on the list of the top 10 most important discoveries of the year, according to the American "Archaeology" Magazine. Read Full Story…
Taposiris Magna
Al-Ahram Hebdo du 10 fév. 21 : Nouveaux secrets à Taposiris Magna…
Des catacombes renfermant des sarcophages ont été découvertes sur le site archéologique de Taposiris Magna à l'ouest d'Alexandrie. Explications. Read Full Story…
Egypt Today du 2 fév. 21 : Live Science shed light on Egyptian mummy with golden tongue discovered in Taposiris Magna…
Live Science website shed light on a discovery in the ancient Egyptian site of Taposiris Magna, west of Alexandria. Sixteen graves were found carved in rocks, one of which contained a mummy with a tongue made of gold. Read Full Story…
II - Restauration, préservation
Egypt Today du 23 mars 21 : Egypt's Minister of Tourism &Antiquities inagurates development project of Tel Basta site in Sharkia…
After the inauguration of the project to develop the area surrounding the Church of the Virgin Mary in Sakha, Kafr El-Sheikh Governorate, which is the second point in the path of the Holy Family journey in Egypt, Dr. Khaled El-Enany, Minister of Tourism and Antiquities, and Major General Mahmoud Shaarawi, Minister of Local Development, opened the develop project of Tel Basta site in Sharkia Governorate, one of the eastern points on the path of the Holy Family journey. The Ministers were received by Dr. Mamdouh Ghurab, Governor of Sharkia. Read Full Story…
Egypt Today du 22 mars 21 : Minister of Tourism & Antiquites opens second point in project of developing the Holy Family path in Kafr El-Sheikh…
Dr. Khaled El-Enany, Minister of Tourism and Antiquities, Major General Mahmoud Shaarawi, Minister of Local Development, and Major General Gamal Nour El-Din, Governor of Kafr El-Sheikh, inaugurated the second point in the project to develop the path of the Holy Family Journey to Egypt in Kafr El-Sheikh governorate after the completion of its development project. They also visited the Church of the Virgin Mary in Sakha. Read Full Story…
Egypt Today du 22 mars 21 : Egypt's Min. of Tourism and Antiquities, Governor of Alexandria discuss developing tourism services at Citadel of Qaitbay…
Egypt's Minister of Tourism and Antiquities Khaled el-Enany convened with Governor of Alexandria Mohammed al-Sharif on March 22. Read Full Story…
Egypt Today du 7 mars 21 : Islamic Village in Balat restored…
The Egyptian government has recently restored the Islamic village in Balat, which is an addition to the map of tourist sites in the New Valley Governorate. Read Full Story…
Egypt Today du 3 mars 21 : 2nd phase of Dendara Temple Complex restoration completed, Min. of Tourism & Antiquities…
On March 3, the Ministry of Tourism and Antiquities announced the completion of the second phase of Qena's Dendara Temple Complex restoration and development project. Read Full Story…
Egypt Today du 26 fév. 21 : Egypt's Minister of Tourism & Antiquities inaugurates two development projects of Temple of Atripps, Hawawish Necropolis in Sohag…
Dr. Khaled El Enany, Minister of Tourism and Antiquities, inaugurated on February 26, the two projects for the restoration and development of Atripps Temple archeological site in Sheikh Hamad and the Hawawish Necropolis in Akhmim, Sohag. Read Full Story…
Al-Ahram Hebdo du 24 fév. 21 : L'Atelier d'Alexandrie entre la vie et la mort…
Lieu symbolique de la ville côtière, l'Atelier d'Alexandrie possède une valeur patrimoniale. L'édifice culturel est menacé dans son existence, car réclamé par de nouveaux propriétaires qui ont réussi à avoir une décision judiciaire d'expulsion. Read Full Story…
Egypt Today du 21 fév. 21 : Egypt starts restoring, documenting architectural drawings, maps at Citadel's Islamic Antiquities Registration Center…
The Ministry of Tourism and Antiquities began working on the restoration and documtation project of the old architectural drawings and maps at the Islamic Antiquities Registration Center in the Citadel. Read Full Story…
Egypt Today du 17 fév. 21 : Egypt's Supreme Council of Antiquities launches restoration works of Prince Sheikho's Sabil in Al-Hataba…
The Supreme Council of Antiquities has begun the restoration of Prince Sheikho's Sabil in Al-Hataba, close to Salah El-Din Citadel. Read Full Story…
Egypt Today du 15 fév. 21 : Egypt's Min. of Tourism & Antiquities launches initiative to clean, maintain statues in public squares nationwide…
Minister of Tourism and Antiquities Khaled el-Enany and Secretary-General of the Supreme Council of Antiquities Mostafa Waziry launched an extensive initiative by the Ministry of Tourism and Antiquities to clean and maintain statues in public squares in all governorates. Read Full Story…
Egypt Today du 14 fév. 21 : Egypt's Ministry of Tourism & Antiquities starts an initiative to clean, restore statues in public Squares…
The Ministry of Tourism and Antiquities began an initiative for cleaning and maintenance of statues in public squares in all Egyptian governorates, under the direction of Dr. Khaled El Enany, Minister of Tourism and Antiquities, and under the direct supervision of Dr. Mostafa Waziry, Secretary General of the Supreme Council of Antiquities. Read Full Story…
Daily News Egypt du 13 fév. 21 : Government works on reviving Historic Cairo by integrating old buildings into surroundings: Madbouly…
Egypt's Prime Minister Mostafa Madbouly announced, on Saturday, that the government is currently working to revive historic Cairo, and that the urban revival plans depend on several axes. Read Full Story…
Egypt Today du 9 fév. 21 : Andalus Park under maintenance…
Head of the Islamic, Coptic and Jewish antiquities sector at the Supreme Council of Antiquities Osama Talaat, said that the restoration and maintenance work in the Andalus Park are not demolishing the garden as it was rumored, but rather it is the renewal and replacement of the irrigation system in the garden to avoid the dangers resulting from leakage of water from its fountain. Read Full Story…
Egypt Today du 8 fév. 21 : Restoration, development works of Sabil Ruqayah Dudu on Souk Al-Silah St. Completed, Min. of Tourism & Antiquities…
Within the framework of the project launched by the Ministry of Tourism and Antiquities to restore and save 100 archaeological buildings in Historic Cairo, the restoration and development works of Sabil Ruqayah Dudu on Souk Al-Silah Street have been completed. Read Full Story…
Egypt Today du 20 déc. 20 : Egyptian, British museums restore colorful mural of ancient tomb…
Antiquities experts from the Egyptian and British museums are working hand in hand to restore an eye-popping colorful mural that was discovered in Kom el Ahmar excavation side in Qena governorate, Upper Egypt, lately. Read Full Story…
Egypt Today du 8 déc. 20 : Modernizing of Al-Muizz night-lighting system implemented using safe lighting fixtures…
The Ministry of Tourism and Antiquities is close to completing the works of the first phase of the project to modernize and develop night lighting systems on Al-Muizz Street and all the ancient buildings in it. Read Full Story…
Egypt Today du 7 déc. 20 : 1st phase of modernizing lighting system in Al-Muizz Street completed…
Egypt's Ministry of Tourism and Antiquities has completed the work of the first phase of the project to modernize and develop the night lighting systems on Al-Muizz Street and all the ancient buildings there. Read Full Story…
Aqueduc
Egypt Today du 24 déc. 20 : Video: Cairo Citadel Aqueduct turns into a tourist attraction…
The Egyptian state pays great attention to the development of archaeological areas and museums, which bear the fragrance of the ancient Egyptian history. Among those sites is the development of Cairo Citadel Aqueduct or Mamluk Aqueduct. Read Full Story…
palais Empain
Al-Ahram Hebdo du 24 fév. 21 : Polémique autour du Baron…
Sept mois après son inauguration, le Palais du Baron Empain connaît quelques dégradations au niveau des murs et du plafond. Une situation qui mécontente les passionnés d'architecture. Explications. Read Full Story…
Egypt Today du 4 fév. 21 : Upgrading services: Egypt's Min. of Tourism & Antiquities removes backyard Kiosk of Baron Palace…
The Egyptian Ministry of Tourism and Antiquities is working to implement their vision for the development of tourism and archaeological areas and sites. Read Full Story…
Egypt Today du 1er fév. 21 : Egypt's Ministry of Tourism & Antiquities provides integrated cultural experience for Baron Palace visitors…
In line with the Ministry of Tourism and Antiquities policy to develop museums, archaeological sites and historical palaces and improve the quality of tourism services provided to visitors, the Ministry is working to make services available at the Baron Empain Palace in Heliopolis to provide an integrated cultural and civilizational experience for its visitors. Read Full Story…
Temple d'Isis à Aswân
Egypt Today du 22 déc. 20 : Restoration of Isis Temple in Aswan completed…
The Ministry of Tourism and Antiquities has completed the restoration and development work in the Isis Temple in Aswan, in preparation for its opening soon. Read Full Story…
III - Musées
Egypt Today du 2 mars 21 : Rasheed National Museum to hold educational workshops for students, graduates of Faculties of Archeology & Tourism in March, April, May…
Rasheed National Museum organizes four educational workshops for students and alumni of the faculties of Archeology, and Tourism and Hotels, through distance education using the Microsoft Teams platform. Read Full Story…
Egypt Today du 26 fév. 21 : Egypt's Ministry of Tourism & Antiquities sets a plan to develop, raise efficiency of tourism services in museums, archaeological sites…
Egypt's Ministry of Tourism & Antiquities sets a plan to develop and raise efficiency of tourism services in museums and archaeological sites. Read Full Story…
Egypt Independent du 4 fév. 21 : On top of GEM, Egypt's Tourism Ministry to inaugurate 4 museums in 2021…
The Egyptian Ministry of Tourism and Antiquities aims to inaugurate several projects in 2021, including four museums with a total cost of LE915 million, said Secretary-General of the Supreme Council of Antiquities Mostafa Waziri. Read Full Story…
Egypt Today du 3 fév. 21 : Online reservation in three museums: When will the application be circulated?…
Egypt's Ministry of Tourism and Antiquities has started implementing and activating the digital transformation project, in the services of museums and archaeological sites, introducing the electronic reservation system for three museums. Read Full Story…
Egypt Today du 23 déc. 20 : Prince Mohammad Ali Palace in Manial, Museum of Islamic Art celebrate their 117th anniversary on December 24, 28…
To celebrate the 117th anniversary of Prince Mohammad Ali's Palace in Manial, Egypt's Minister of Tourism and Antiquities Khaled el-Enany, is granting Egyptians free entry to the palace on December 24. Read Full Story…
Egypt Today du 20 déc. 20 : Kom al-Shuqafa, Alexandria National Museum receives trainees delegation from Presidential Leadership Program…
Kom al-Shuqafa and Alexandria National Museum received a delegation of trainees from the Presidential Leadership Program, as part of the field visits program planned to develop their cultural knowledge. Read Full Story…
Egypt Today du 12 déc. 20 : Egypt celebrates Luxor Museum of Ancient Egyptian Art anniversary…
Established specifically to revive the art of the ancient city of "Thebes", Luxor Museum of Ancient Egyptian Art celebrates on Saturday December 12 the 45th anniversary of its opening. Read Full Story…
GEM
Egypt Today du 28 mars 21 : 105 showcases allocated for King Tutankhamun's artifacts in the Grand Egyptian Museum…
The Grand Egyptian Museum contains more than 50,000 artifacts, including the entire collection of King Tutankhamun, which will be displayed for the first time to the public. Read Full Story…
Egypt Today du 28 mars 21 : Waziry, Abbas follow up on work progress of King Tutankhamun halls in Grand Egyptian Museum…
Secretary General of the Supreme Council of Antiquities Mostafa Waziry and Assistant Minister of Tourism and Antiquities for Archaeological Affairs at the Grand Egyptian Museum Al-Tayeb Abbas, followed up on the progress of work in the exhibition halls of the treasures of King Tutankhamun and placing the artifacts inside their show-cases according to the set museum display scenario. Read Full Story…
Egypt Today du 26 mars 21 : Egypt's Minister of Tourism& Antiquities holds a meeting to follow up on GEM's business developments…
Dr. Khaled El Enany, Minister of Tourism and Antiquities, held a meeting with Major General Atef Moftah, supervisor of the Grand Egyptian Museum project and the surrounding area, Dr. Mustafa Waziry, Secretary-General of the Supreme Council of Antiquities, Dr. Al Tayeb Abbas, assistant minister for archaeological affairs at the museum, and the museum's legal advisor, in order to follow up on developments in the Grand Egyptian Museum's work. Read Full Story…
Egypt Today du 20 mars 21 : General Supervisor of GEM receives Certificate of Honour and Appreciation…
Major General Atef Moftah, General Supervisor of the Grand Egyptian Museum Project and the Surrounding Area, received a certificate of appreciation from the Museum Sector at the Ministry of Tourism and Antiquities headed by Mr. Momen Osman. Read Full Story…
Egypt Today du 14 mars 21 : Egypt's Grand Egyptian Museum receives fourth shrine of King Tutankhamun's collection…
The Grand Egyptian Museum received the fourth shrine of King Tutankhamun from the Egyptian Museum in Tahrir, which will be part of the display scenario of the halls of the treasures of the Golden King. Read Full Story…
Egypt Today du 11 mars 21 : Egypt's Grand Museum awarded 4 ISO certificates in 180 days…
The Grand Egyptian Museum was granted a new certificate of ISO/PAS 45005:2020, winning the fourth certificate within 180 days. Read Full Story…
Egypt Today du 9 mars 21 : Statue of King Senusret I to be installed on Egypt's Grand Museum's Great Staircase…
The Grand Egyptian Museum is currently working on installing the statue of King Senusret I on the Great Staircase. Read Full Story…
Egypt Today du 9 mars 21 : Grand Egyptian Museum's restorers succeed in restoring Tutankhamun's war shield…
The Grand Egyptian Museum contains a huge amount of artifacts, which exceed 50,000 pieces, including the entire collection of King Tutankhamun. Read Full Story…
Egypt Today du 8 mars 21 : Egypt's Minister of Tourism &Antiquities Khaled El Enany witnesses placement of Tutankhamun's pieces in Thei display vitrines in GEM…
Egypt's Minister of Tourism and Antiquities Khaled El Enany witnessed the placement of the first pieces of the treasures of King Tutankhamun in thei display vitrines in the Grand Egyptian Museum. Read Full Story…
Egypt Today du 7 mars 21 : Egypt's Grand Egyptian Museum receives Braille Appreciation Certificate…
Grand Egyptian Museum is committed to being a barrier-free cultural landscape in accordance with the highest international standards. Read Full Story…
Egypt Today du 4 mars 21 : Hassan Allam coalition to operate services at Grand Egyptian Museum…
The Board of Directors of the Grand Egyptian Museum approved on Tuesday the decision of the expert committee, formed upon Prime Minister Mostafa Madbouly's directives, to choose Hassan Allam coalition to be responsible for providing and operating the services at the museum. Read Full Story…
Egypt Today du 3 mars 21 : Grand Egyptian Museum's website uploads new photos of museum's surroundings after installing hanging obelisk…
The official page of the Grand Egyptian Museum uploaded new photos of the facade and the external courtyard of the museum after the construction of the hanging obelisk. Read Full Story…
Egypt Today du 23 fév. 21 : Egypt's Minister of Tourism & Antiquities holds a meeting to follow up on GEM…
Dr. Khaled El Enany, Minister of Tourism and Antiquities, met today with Major General Atef Moftah, General Supervisor of the Grand Egyptian Museum and its surrounding area, Dr. Mostafa Waziry, Secretary-General of the Supreme Council of Antiquities, and Dr. Al-Tayeb Abbas, Assistant Minister for Archaeological Affairs at the Grand Egyptian Museum, to discuss the latest developments in the museum. Read Full Story…
Egypt Today du 22 fév. 21 : Egypt's Grand Museum starts implementing display scenario for King Tutankhamun's possessions…
According to Hussein Kamal, the Grand Egyptian Museum is about to implement a display scenario for the Golden Pharaoh, King Tutankhamun, within the next few weeks. Read Full Story…
Egypt Today du 21 fév. 21 : The sun rays shine on statue of King Ramesses II standing tall in the Grand Hall of GEM…
More than three thousand years after King Ramesses II built his unique temple at Abu Simbel in which the rays of the sun shine on the king's face on October 21 and February 21 of each year, the Grand Egyptian Museum (GEM) echoes that achievement. Read Full Story…
Egypt Today du 18 fév. 21 : GEM restoration lab successfully restores Tutankhamun's scarf…
The restoration centers of the Grand Egyptian Museum completed the restoration of a scarf discovered inside the tomb of Tutankhamun. Read Full Story…
Egypt Today du 9 fév. 21 : Egypt's Grand Museum receives artifacts from Egyptian Museum in Tahrir…
The Grand Egyptian Museum received a collection of artifacts from the Egyptian Museum in Tahrir. The artifacts were placed in wooden boxes and include a collection of the personal antiquities of King Tutankhamun. Read Full Story…
Daily News Egypt du 6 fév. 21 : UNESCO delegation inspects developments at Grand Egyptian Museum…
An official visit to the Grand Egyptian Museum (GEM) by a UNESCO World Heritage Center and Heritage Division team, headed by its director Mechtild Rössler, took place on Friday. Read Full Story…
Egypt Today du 5 fév. 21 : UNESCO World Heritage Center director visits Grand Egyptian Museum…
As part of her current visit to Egypt, Dr. Mechtild Rössler, Director of the UNESCO World Heritage Center and the Heritage Division visited the Grand Egyptian Museum with her accompanying delegation. Read Full Story…
Egypt Today du 2 fév. 21 : Sisi discusses latest developments of Grand Egyptian Museum, historical projects…
President Abdel Fattah El Sisi held a meeting with prime minister Mostafa Madbouly and minister of tourism and antiquites Khaled El Enany to discuss the latest developments of Grand Egyptian Museum and other important historical projects. Read Full Story…
Egypt Today du 25 déc. 20 : Egypt's Prime Minister issues a decree to form, organize board of directors of Grand Egyptian Museum…
Egypt's Prime Minister Mostafa Madbouly issued a decree to form and organize the Board of Directors of the Grand Egyptian Museum, headed by the minister of tourism ans antiquities. Read Full Story…
Egypt Today du 21 déc. 20 : GEM's committee of experts convened in Egypt's Min. of Tourism & Antiquities on Dec. 20…
On December 20, the committee of experts formed by the decree of the Prime Minister No. 3211 of 2019 convened at the Ministry of Tourism and Antiquities. Read Full Story…
Egypt Today du 15 déc. 20 : Egypt's GEM issues 'We Have Never Stopped: In the Face of Corona' booklet…
Egypt's Grand Egyptian Museum(GEM) is ensuring the safety of all employees and providing them with support when dealing with the global pandemic. Read Full Story…
Egypt Today du 12 déc. 20 : Egyptian-Japanese symbol of friendship to promote Grand Egyptian Museum…
In the framework of continuous communication and cooperation a joint proposal between the Egyptian Embassy in Japan (under the direction of Ambassador Ayman Kamel) and Grand Egyptian Museum Project (under the direction of Major General Atef Moftah, the General Supervisor of the GEM Project and Surrounding Area) was undertaken. Read Full Story…
Musée d'Art islamique
Egypt Today du 13 déc. 20 : Egypt's Museum of Islamic Art launches 8th Annual Forum on Dec. 13…
The Museum of Islamic Art in Cairo launched Sunday, the Eighth Annual Forum in cooperation with the Egyptian Arabesque Association entitled "Architectural and Decorative Aesthetics in Historic Cairo". Read Full Story…
Egypt Today du 10 déc. 20 : Egypt's Museum of Islamic Art launches introductory videos on its archaeological holdings…
The Museum of Islamic Art at Bab Al-Khalq launches a series of introductory videos on the museum and the archaeological collections it contains, under the title "Hadouta". Read Full Story…
Musée de la capitale administrative
Egypt Today du 2 déc. 20 : Egypt's tourism & antiquities min. inspects Museum of Egypt's Capitals in New Administrative Capital…
Egypt's Minister of Tourism & Antiquities Khaled el-Enani and Advisor to the President of Egypt for Financial Affairs Mohamed Amin visited the Museum of Egypt's Capitals in the New Administrative Capital, to follow up on its latest developments. Read Full Story…
musée de Sharm al-Shaykh
Egypt Today du 11 fév. 21 : Sharm El-Sheikh Museum, safe as can be…
In response to the news that has been circulated alleging that Sharm El-Sheikh Museum and some of its artifacts were affected by flooding, Head of the Museums Sector at the Supreme Council of Antiquities Moamen Othman confirmed that they are baseless allegations and that Sharm El Sheikh Museum and its artifacts are safe and in good condition of preservation and have not been affected whatsoever. Read Full Story…
musée des carrosses royaux
Egypt Today du 13 déc. 20 : "Qusayr" Carriage arrives at the Royal Carriage Museum for restoration, display…
The unique "Sharapan" Carriage will be restored and displayed in the museum. Read Full Story…
Egypt Today du 10 déc. 20 : "Al Qaseer" cabriolet arrives at the Royal Chariots Museum for restoration, display…
On December 10, the Royal Chariots Museum in Bulaq received a cabriolet dating back to the era of Khedive Abbas Helmy II. Read Full Story…
Egypt Today du 3 déc. 20 : Royal Chariots Museum organizes lecture, guided tour for a group of tour guides…
In line with the Ministry of Tourism and Antiquities' initiative to organize guided tours in the newly opened archaeological museums to tour guides, the Royal Chariots Museum in Bulaq organized a lecture and a guided tour for a group of 35 tour guides, to acquaint them with the museum and its artifacts, in order for them to explain the display scenario for tourists in an easy yet interesting way. Read Full Story…
Musée du Textile égyptien
Egypt Today du 20 déc. 20 : Was Egypt's Textile Museum's holdings transferred to the National Museum of Egyptian Civilization?…
The Egyptian Textile Museum is located on Al-Muizz Street, specifically near the Bain el-Kasserine neighborhood. It was known as Sabil Mohammad Ali. Read Full Story…
Musée Égyptien
Egypt Today du 14 mars 21 : What happens to Tutankhamun's belongings that remain in Tahrir's Egyptian Museum?…
Director General of the Restoration Affairs at the Grand Egyptian Museum Hussein Kamal said that King Tutankhamun's remaining possessions in the Egyptian Museum in Tahrir sum up to 220 out of a total of 5600 artifacts, which will all be displayed together for the first time in the Grand Egyptian Museum. Read Full Story…
Egypt Today du 9 mars 21 : Celebrating International Women's Day, Mother's Day Tutankhamun's nursing mother statue is the artifact of March in Egyptian Museum…
On the occasion of International Women's Day, which falls on March 8 of each year and Mother's Day that falls on March 21 of each year, the Egyptian Museum in Tahrir chose a statue of Maya, the nursing mother and baby sitter of King Tutankhamun, to be the exclusive piece of the month, which is displayed in the main entrance hall of the museum. Read Full Story…
Egypt Today du 25 déc. 20 : Cultural, educational activities at Egyptian Museum suspended…
The Egyptian Museum in Tahrir Square suspended all the cultural and educational activities as of Friday until further notice as a part of the State's anti-coronavirus plan. Read Full Story…
NMEC
Egypt Today du 31 mars 21 : Official page of National Museum of Egyptian Civilization, online ticketing platform launches on March 31…
As the inauguration of the Central Exhibition Hall at the National Museum of Egyptian Civilization in Fustat opens on April 3 in line with the Pharaohs' Golden Parade, the Ministry of Tourism and Antiquities will launch, on Wednesday, the official page of the museum and an online platform for booking tickets. Read Full Story…
Egypt Today du 30 mars 21 : Final touches placed in NMEC in preparation for Pharaoh's Golden Parade on April 3…
On March 29, Egypt's Minister of Tourism and Antiquities Khaled el-Enany with the whole team of the National Museum of Egyptian Civilization worked until the late night hours putting the finishing touches in preparation for the opening of the Core Hall and the Mummies Hall in the museum in preparation for the unrivalled event of the Pharaohs' Golden Parade set to be held on April 3, 2021. Read Full Story…
Egypt Today du 29 mars 21 : 55,000 year-old skeletal remains to be exhibited in National Museum of Egyptian Civilization…
The 55,000 year-old skeleton, which is considered the oldest skeleton in Egypt, will be exhibited in the National Museum of Egyptian Civilization. It has been displayed in a temporary exhibition at the Egyptian Museum in Tahrir for a month. Read Full Story…
Egypt Today du 29 mars 21 : 400+ TV channels to broadcast Pharaoh's Golden Parade on April 3, government…
Prime Minister Mustafa Madbouly chaired the meeting of the Ministerial Committee for Tourism and Antiquities, in the presence of Minister of Tourism and Antiquities Khaled el-Anany, Minister of Culture Inas Abdel Dayem, and Minister of Finance Mohamed Maait. Read Full Story…
Egypt Today du 25 mars 21 : Egypt's Ministry of Tourism & Antiquities organizes training course for employees of National Museum of Egyptian Civilization…
In line with the Ministry of Tourism and Antiquities' preparations for the soon to be opening of the National Museum of Egyptian Civilization in Fustat, which will witness the Golden Pharaoh's parade of royal mummies from the Egyptian Museum in Tahrir to its permanent display in the NMEC on April 3, the Ministry of Tourism and Antiquities held a training course for 30 employees of the National Museum of Egyptian Civilization. Some of the trainees are ticketing staff and civil security personnel. Read Full Story…
Egypt Today du 22 mars 21 : National Museum of Egyptian Civilization officially launches on April 3…
The Ministry of Tourism and Antiquities plans to promote the National Museum of Egyptian Civilization in Fustat after its opening, which is scheduled on April 3. Read Full Story…
Egypt Today du 18 mars 21 : National Museum of Egyptian Civilization receives 6 newly discovered artifacts…
CEO of the National Museum of Egyptian Civilization Ahmed Ghoneim announced the receipt of six important artifacts from the recent archaeological discoveries of the Ministry of Tourism and Antiquities' excavations in the Saqqara Cemetery Read Full Story…
Egypt Today du 16 mars 21 : Board of Directors of National Museum of Egyptian Civilization discuss final preparations for the Golden Pharaoh's Parade…
A meeting of the Board of Directors of the National Museum of Egyptian Civilization was held on March 15, headed by Egypt's Minister of Tourism & Antiquities Khaled el-Enany, at the museum's headquarters in Fustat, to discuss the final preparations for receiving the Golden Pharaoh's parade in the upcoming period. Read Full Story…
Daily News Egypt du 16 fév. 21 : Talks underway to add Egyptian Civilization Museum to Cairo Pass sites list…
Negotiations are underway to add the National Museum of Egyptian Civilization (NMEC) to the list of sites that can be visited using the Cairo Pass. Read Full Story…
Egypt Independent du 16 fév. 21 : National Museum of Egyptian Civilization to be added to 'Cairo Pass' list…
The Board of Directors of the National Museum of Egyptian Civilization, headed by Tourism and Antiquities Minister Khaled al-Anany, discussed the possibility of including the museum after its inauguration to the 'Cairo Pass' list. Read Full Story…
Egypt Today du 16 fév. 21 : NMEC Board of Directors' holds meeting on Feb. 16…
A meeting of the Board of Directors of the National Museum of Egyptian Civilization in Fustat was held on February 16 to discuss a number of issues regarding developments in the museum's work. Read Full Story…
Egypt Today du 14 fév. 21 : Tabataba scene to be transferred from Ain Sira to NMEC…
After the completion of the engineering studies and the approval of the Permanent Committee for Islamic, Coptic and Jewish Antiquities, the Supreme Council of Antiquities began the work of dismantling and moving the "Al Tabataba" archaeological scene from its current location on the eastern side of Ain Al-Sira, to the opposite side on the edge of Ain Al-Sira next to the National Museum of Egyptian Civilization. Read Full Story…
Egypt Today du 29 déc. 20 : Helwan University decorates entrance to the National Museum of Egyptian Civilization…
The Ministry of Tourism and Antiquities and the National Museum of Egyptian Civilization started adding an aesthetic touch to the main entrance to the museum prior to its opening. Read Full Story…
Egypt Today du 18 déc. 20 : Egypt's Minister of Tourism & Antiquities discusses final preparations for Royal Mummies Parade…
Dr. Khaled El-Enany, Minister of Tourism and Antiquities, held a meeting at the National Museum of Egyptian Civilization in Fustat, with representatives of the ministries of defense, interior, security agencies, the Supreme Council of Antiquities, and the company organizing the transfer of the royal mummies from the Egyptian Museum in Tahrir to the National Museum of Egyptian Civilization in Fustat, In order to follow up the necessary procedures and final touches for the transfer process. Read Full Story…
Egypt Today du 15 déc. 20 : 1st meeting of NMEC Board of Directors held on Dec. 14…
After Egypt's Prime Minister Mostafa Madbouly's decree to form the board of directors of the National Museum of Egyptian Civilization headed by the Minister of Tourism and Antiquities Khaled el-Enany, the first meeting of the museum's board of directors was held on December 14 at the museum's headquarters in Fustat, in the presence of all council members. Read Full Story…
Egypt Today du 10 déc. 20 : Video: Sneak-Peak on current location of Egypt's Royal Mummies in preparation of Royal Parade…
The world eagerly anticipates the exit of the 22 kings from the Egyptian Museum in Tahrir, heading to their permanent residence in the National Museum of Egyptian Civilization in Fostat. Read Full Story…
Egypt Today du 8 déc. 20 : VIDEO: Final rehearsals of Egypt's grandiose Royal Mummies' Parade are undergoing…
A new video have been released showing the final rehearsals for transporting 22 royal mummies from the Egyptian Museum in Tahrir to the place of their permanent display in the National Museum of Egyptian Civilization in Fostat, while the government is finalizing the equipment for this huge event, which will be covered by all local and international media. Read Full Story…
IV - Expositions archéologiques
Egypt Today du 16 mars 21 : 'Secrets of Sunken Egypt' exhibition's artifacts return to Egypt after their tour abroad…
The artifacts that participated in the exhibition "Secrets of Sunken Egypt" returned to Egypt today, after the end of the exhibition's tour abroad in the United States of America and a number of European countries. Read Full Story…
Egypt Today du 15 fév. 21 : Egypt's Min. of Tourism & Antiquities participates in 'Diyarna Exhibition' 2021…
The Ministry of Tourism and Antiquities is participating, for the first time, in the "Diyarna Handicrafts Exhibition 2021", which will be held from February 15 to 25 in Cairo Festival City, Fifth Settlement. Read Full Story…
Daily News Egypt du 10 fév. 21 : Egypt's 'Kings of the Sun' archaeological expo in Prague to continue until 30 June…
Egypt's "Kings of the Sun" exhibition will continue at its current location in the Czech Republic's capital, Prague, until 30 June. Read Full Story…
Egypt Today du 10 fév. 21 : Egypt's 'Kings of the Sun' exhibition in Prague extended to June 30…
Secretary General of the Supreme Council of Antiquities Mostafa Waziry signed an agreement to extend the exhibition "Kings of the Sun", which is currently held at the National Museum in the Czech capital Prague, to June 30, 2021. Read Full Story…
Egypt Today du 29 déc. 20 : Baron Empain Palace hosts "From Bab el-Khalq to Heliopolis" exhibition on Dec. 29…
The Museum of Islamic Art, in cooperation with the Baron Empain Palace in Heliopolis, continues the activities of two art exhibitions entitled "Treasures of Lead", at the Museum of Islamic Art, and the exhibition "From Bab el-Khalq to Heliopolis", at Baron Empain Palace, on December 29 at 2 p.m., in celebration of the 117th anniversary of the opening of the Museum of Islamic Art at Bab el-Khalq. Read Full Story…
Egypt Today du 26 déc. 20 : Egypt's Museum of Islamic Art, Baron Empain Palace organize two art exhibitions…
In celebration of the 117th anniversary of the opening of the Museum of Islamic Art at Bab Al-Khalq, the museum, in cooperation with the Baron Empain Palace in Heliopolis, is organizing two art exhibitions titled "Treasures of Lead", at the Museum of Islamic Art, and another titled "From Bab Al-Khalq to Heliopolis", at Baron Empain's Palace, from 28th and December 29th 2020 to January 13th 2021. Read Full Story…
Egypt Today du 23 déc. 20 : Egypt to hold 'Ramses & Pharaoh's Gold' exhibition in 5 countries…
The Cabinet has approved to hold an exhibition entitled "Ramses and the Pharaohs' Gold" in five international cities during the period from November 2021 to January 2025. Read Full Story…
Egypt Today du 15 déc. 20 : Gayer Anderson Museum hosts "Creativity in the Time of COVID-19" children's exhibition…
General Director of the Gayer Anderson Museum Mervat Ezzat and plastic artist Majd Masara inaugurated the first edition of the children's painting exhibition "Creativity in the Time of COVID-19" at the Gayer Anderson Museum. Read Full Story…
Egypt Today du 12 déc. 20 : Egypt's Luxor Museum holds temporary exhibition on Saturday for one of its artifacts…
The Luxor Museum, in cooperation with the joint Egyptian-American mission, is holding a temporary exhibition on Saturday for one of its artifacts, coinciding with the celebration of the 45th anniversary of its opening. Read Full Story…
Egypt Today du 12 déc. 20 : Egypt participates with 84 islamic artifacts in "Towards the mosque" in Saudi Arabia…
An exhibition of Islamic antiquities titled " Towards the mosque" is going to be held in the Ithra'a museum in Dhahran, In the Kingdom of Saudi Arabia, as part of the cultural cooperation agreement between the Arab Republic of Egypt and the Kingdom of Saudi Arabia. Read Full Story…
V - Thèmes généraux
Egypt Today du 31 mars 21 : Copper dome of Sultan Qaytbay's Group registered as an antiquity, what's the story?…
The Ministry of Tourism and Antiquities has recently registered the copper dome in Sultan Al-Ashraf Qaytbay Mosque and Mausoleum among the Islamic, Coptic and Jewish antiquities, within the framework of the ministry's efforts to register and document all artifacts in ancient buildings and archaeological sites. Read Full Story…
Egypt Today du 29 mars 21 : Application for General Union of Arab Archaeologist's Awards open until July 30…
Head of the General Union of Arab Archaeologists Mohammad al-Kahlawy announced receiving applications for the union's various awards for 2021, with the deadline for submitting set for July 30. Read Full Story…
Egypt Today du 29 mars 21 : Egypt's Ministry of Tourism & Antiquities partcipates in "Earth Hour"…
The Ministry of Tourism and Antiquities participated in March 27 in the annual global event "Earth Hour" by turning off the lights for one hour, from 8:30 to 9:30 on Saturday in 42 of archeological sites and museums in 16 governorates, to contribute to the global movement of Earth Hour, as a symbol of commitment to the planet energy. Read Full Story…
Egypt Today du 28 mars 21 : Egypt's Minister of Tourism & Antiquities inaugurates first factory for archaeological replicas in Egypt, the Middle East…
Dr. Khaled El-Enany, Minister of Tourism and Antiquities, inaugurated the factory of archaeological replicas in Obour City, which is the first of its kind in Egypt and the Middle East. Read Full Story…
Egypt Today du 26 mars 21 : Egypt's Ministry of Tourism & Antiquities launches massive advertising campaign to promote the Pharaohs' Golden Parade in Arab, international social media platforms…
Starting Thursday, March 25 evening, the Ministry of Tourism and Antiquities, is launching a major advertising campaign to promote the Pharaohs' Golden Parade on Arab and international social media platforms, especially in the main markets exporting tourism to Egypt. Read Full Story…
Egypt Today du 24 mars 21 : Learn about history of currencies in training course at Union of Arab Archaeologists…
President of the Union of Arab Archaeologists Mohammad el-Kahlawi announced that the union's Regional Center for Antiquities, Arts and Ancient Civilizations will hold an online training course entitled "Readings in Currency from its Inception Until the Islamic Era." Read Full Story…
Egypt Today du 13 mars 21 : Egypt's Ministry of Tourism& Antiquities organizes training course for a number of workers at Al Moez Street…
The Ministry of Tourism and Antiquities organized a training course for 29 workers at Al Moez Street in the Old Cairo Region, among the workers were civil security personnel, as a part of the Ministry's plan to uplift people working in the tourism sector in tourism and hotel establishments, museums and archaeological sites nationwide. Read Full Story…
Egypt Today du 11 mars 21 : Abu Simbel Temples safe after minor earthquake hits area 48 km northwest of Abu Simbel City…
Abu Simbel Temple is a UNESCO World Heritage Site. On March 11, the stations of the National Seismological Network of the National Institute for Astronomical Research recorded an earthquake 48 km northwest of Abu Simbel city, without affecting the archaeological area. Read Full Story…
Egypt Today du 11 mars 21 : French-Egyptian mission working in Karnak encourages tourists to visit Egypt…
Another Archeological mission working in Egypt invites the world to see its wonders, following the footsteps of the Polish mission. Read Full Story…
Egypt Today du 9 mars 21 : Egypt launches the 1st school of excavations for inspectors of Islamic, Coptic, Jewish antiquities sector in Fustat…
The Ministry of Tourism and Antiquities, represented by the Central Training Unit, in cooperation with the Islamic, Coptic and Jewish Antiquities Sector, launched the first school of excavations targeting Islamic, Coptic and Jewish antiquities inspectors, which will be held for the first time in Fustat. Read Full Story…
Egypt Today du 27 fév. 21 : Egypt's Ministry of Tourism & Antiquities organizes a trip for students with special needs to Aswan…
The Ministry of Tourism and Antiquities, represented by the Egyptian Tourism Promotion Board office in Sohag, organized an awareness trip for a group of 24 students with special needs for two days to Aswan, in coordination with the Educational Administration, the Integration Department, in Sohag. Read Full Story…
Egypt Today du 25 fév. 21 : Bazars, cafeterias in Egypt's museums, archaeological sites exempted from paying rent until April 2021…
During its last convention chaired by Egypt's Minister of Tourism and Antiquities Khaled el-Enany, the Board of Directors of the Supreme Council of Antiquities approved a complete exemption for renters of bazaars and cafeterias in museums and archaeological sites of the Supreme Council of Antiquities from paying rent for the months of March and April 2021. Read Full Story…
Egypt Today du 23 fév. 21 : 'Impact of Egyptian Civilization on Greek Civilization' lecture to be held in Egypt's SCC on Feb. 24…
On February 24, the History and Antiquities Committee of the Supreme Council of Culture is organizing a lecture entitled "The Impact of Egyptian Civilization on Greek Civilization", at 12 p.m. in the Supreme Council of Culture's Main Hall. Read Full Story…
Egypt Independent du 22 fév. 21 : Biannual sun illumination shines on Ramses II statue in Abu Simbel…
Tourists both foreign and domestic witnessed a biannual sun alignment on Monday, which lighted up the statue of King Ramses II in Aswan's Abu Simbel temple. Read Full Story…
Egypt Today du 22 fév. 21 : Egypt' Ministers of Tourism & Antiquities, Education discuss raising archaeological awareness among school students…
Dr. Tarek Shawky, Minister of Education and Technical Education, received on February 22, Dr. Khaled El Enany, Minister of Tourism and Antiquities, to discuss a number of cooperation projects between the two ministries, especially with regard to increasing tourism and archaeological awareness and enhancing tourism ethics among school students. Read Full Story…
Egypt Today du 22 fév. 21 : Egypt's General Authority for Cultural Palaces celebrates Abu Simbel Temples' Solar Alignment…
The General Authority for Cultural Palaces celebrated the Solar Alignment phenomenon at Abu Simbel Temples on its official Facebook page, where it described the phenomenon as "one of the most famous astronomical phenomena that the ancient Egyptians embodied in Egyptian temples." Read Full Story…
Al-Ahram Hebdo du 17 fév. 21 : Abou Simbel célèbre la tombée perpendiculaire du soleil sur la statue de Ramsès II…
Un grand nombre de visiteurs dont des touristes de différentes nationalités, ont assisté à la tombée perpendiculaire du soleil sur le visage de la statue de Ramsès II, au temple d'Abou Simbel au sud d'Assouan, à environ 1300 km au sud du Caire. Read Full Story…
Daily News Egypt du 15 fév. 21 : Aswan to hold international concert at Ramses II Temple next Monday…
The countdown to the Solar Alignment Phenomenon in Abu Simbel begins, where the sunlight aligns on the face of King Ramses II's seated statue in the Holy of Holies room in the Ramses II Temple which features four large statues. Read Full Story…
Al-Ahram Hebdo du 3 fév. 21 : Un patrimoine en détresse…
L'héritage culturel de la région a subi destruction et dévastation durant les révolutions du Printemps arabe. Retour sur cette période troublante de l'histoire du patrimoine. Read Full Story…
Egypt Independent du 3 fév. 21 : Amid closures, virtual tours of Abu Simbel conducted for Egyptian high school students…
In a new attempt to raise archaeological awareness while abiding by coronavirus precautionary measures, a number of virtual tours were conducted within Upper Egypt's temples of Abu Simbel, Ramses II and Nefertari, for high school students. Read Full Story…
Egypt Today du 31 déc. 20 : 50% discount on all tickets for archeological sites in Alexandria on Jan., Feb. 2021…
Director General of the Islamic, Coptic and Jewish Antiquities Department in Alexandria and the North Coast Mohamed Metwally announced applying a decision by the Supreme Council of Antiquities unifying the price of the tickets for entering the archeological sites and museums to all Egyptians as of Friday and for two months. Read Full Story…
Egypt Today du 30 déc. 20 : Egypt's Ministry of Tourism and Antiquities launches Medicine Forum…
The Cultural Development and Community Communication Department in the office of the Minister of Tourism and Antiquities organized the third forum for the artists of the Ministry of Tourism and Antiquities under the title "Medicine, Healing and Medicines through the Ages" at the Royal Chariots Museum. Read Full Story…
Egypt Today du 30 déc. 20 : Board of Directors of Egypt's Supreme Council of Antiquities approves decisions to promote cultural tourism in Egypt…
The Board of Directors of the Supreme Council of Antiquities, in its convention headed by Minister of Tourism and Antiquities Khaled el-Enany on December 29, approved decisions to promote cultural tourism in Egypt. Read Full Story…
Egypt Today du 25 déc. 20 : Art D'Égypte takes public school children to the Giza Pyramids to raise awareness of Egyptian cultural heritage…
Art D'Égypte, which specializes in organizing art and cultural exhibitions, organized a trip to Giza Pyramids for the students of governmental school in Giza, in cooperation with the National Commission for UNESCO in Egypt, the UNESCO associated schools network (ASPNet) and Datifa Culture Tours. Read Full Story…
Egypt Today du 21 déc. 20 : In 2020: Sun illuminates Holy of Holies Shrine in Karnak Temple on Dec. 22…
In one of the most important astronomical phenomena, the world witnesses the solar alignment phenomenon on the Holy of Holies shrine at Karnak Temple on December 21 of each year. Read Full Story…
Egypt Today du 21 déc. 20 : Qasr Qarun Temple in Fayoum Governorate witnesses solar alignment phenomenon on Dec. 21…
A committee from the Fayoum Governorate and the governorate's antiquities area, monitored on Monday the solar alignment phenomenon on the Holy of Holies in the Qasr Qarun Temple. Read Full Story…
Egypt Today du 18 déc. 20 : Egypt's Giza Pyramids hosts 'Egypt Walk for Inclusion" with the participation of fifty disabled…
The Pyramids of Giza hosted "Egypt walk for inclusion", where fifty disabled Egyptian athletes and children participated. Read Full Story…
Egypt Today du 9 déc. 20 : Issuing commemorative medals for Historic Cairo on its 1050th anniversary…
The Public Treasury and Coinage Authority, in cooperation with the Ministry of Tourism and Antiquities, issued a set of commemorative medals celebrating the 1050th anniversary of the founding of Historic Cairo, in keeping with its choice as the capital of Islamic culture and civilization for the year 2020. Read Full Story…
Egypt Today du 8 déc. 20 : Egypt's Min. of Tourism & Antiquities: Circulating photos of Kom al-Shuqafa are old…
The Egyptian Ministry of Tourism and Antiquities clarified that the circulating photos of Kom al-Shuqafa archeological site are old and do not reflect its current status. Read Full Story…
Egypt Today du 6 déc. 20 : Egypt's tourism & antiquities min. visits Archaeological Replicas Factory…
Egypt's Minister of Tourism & Antiquities Khaled el-Enany visited the new archaeological replicas factory. Read Full Story…
coopération
Egypt Today du 16 mars 21 : Egypt's Minister of Tourism and Antiquities convenes with Ambassador of Colombia to Egypt…
On March 16, Egypt's Minister of Tourism & Antiquities Khaled el-Enany received in his office Ambassador Ana Milena Muñoz de Gaviria, Ambassador of Colombia to Cairo, to discuss strengthening cooperation between the two countries at the touristic and archaeological levels. Read Full Story…
Egypt Today du 15 mars 21 : Egypt's Minister of Tourism& Antiquities meets with Minister of Foreign Affairs of Guinea-Conakry to enhance bilateral cooperation in fields of antiquities…
Dr. Khaled El Enany, Minister of Tourism and Antiquities, received in his office at the Ministry's headquarters in Zamalek, Minister Ibrahim Kaba, Minister of Foreign Affairs of Guinea Conakry, during his current visit to Egypt, heading an official delegation to discuss strengthening ways of joint cooperation between the two countries. Read Full Story…
Egypt Today du 9 mars 21 : Joint cooperation between Egypt, Spain to train archaeologists in the study of bones, remains…
A plan to train the employees of the Ministry of Tourism and Antiquities and in line with the constant cooperation between the Supreme Council of Antiquities and specialized foreign universities and institutes, the Ministry represented by the Central Training Unit in cooperation with the Institute for the Study of Archaeological Anthropology at Isabel University in Spain held a specialized training for archaeologists at the Ministry on the study of excavated bones. Read Full Story…
Al-Ahram Hebdo du 17 fév. 21 : Archéologie : 140 ans de coopération franco-égyptienne…
L'Institut Français d'Archéologie Orientale (IFAO) fête ses 140 ans en Égypte avec la publication de l'ouvrage Archéologie Française en Égypte. Un ouvrage qui retrace l'ensemble de la collaboration entre l'Égypte et la France en matière d'archéologie. Read Full Story…
Egypt Today du 24 déc. 20 : Egypt's Min. of Tourism & Antiquities receives Japanese Ambassador in Cairo…
On December 23, Egypt's Minister of Tourism & Antiquities Khaled el-Enany, received at the ministry in Zamalek, Ambassador Masaki Noke, Ambassador of Japan in Cairo, to discuss strengthening means of cooperation between the two countries in tourism and archaeology during the coming period. Read Full Story…
Enchères
Egypt Today du 16 déc. 20 : In Pics: Christie's Auction House holds auction for Egyptian, Roman antiquities on Dec. 16…
Christie's International Auction House in London is preparing to present the "Antiques" auction, which includes a large number of Egyptian and Roman antiquities for sale. Read Full Story…
restitution archéologique
Egypt Today du 10 mars 21 : Egypt successfully repatriates smuggled artifact of goddess Bastet from Canada…
In line with the efforts made by Egypt's diplomatic missions and the Ministry of Tourism and Antiquities to repatriate Egyptian antiquities smuggled abroad, Ambassador Ahmed Abu Zaid, the Egyptian ambassador to Canada, received a bronze artifact of the Goddess Bastet belonging to the ancient Egyptian civilization, in a ceremony of a limited number in the residence of the Egyptian Ambassador, due to the safety and precautionary measures taken because of the pandemic. Read Full Story…
Egypt Today du 7 mars 21 : Egypt repatriates ancient stone piece from London…
Egypt's government cherishes every single part of its heritage and works diligently to bring back home any artifact that has gone out of the country illegally. Read Full Story…
Al-Ahram Hebdo du 10 fév. 21 : Les États-Unis restituent à l'Égypte 5 000 pièces d'antiquité…
La semaine dernière, le ministère du Tourisme et des Antiquités, en coopération avec le ministère égyptien des Affaires étrangères, a réussi à récupérer plus de 5 000 pièces d'antiquité égyptiennes qui étaient en possession du musée du Holy Bible à Washington, aux États-Unis. Read Full Story…
Visite virtuelle
Egypt Today du 25 fév. 21 : Enjoy virtual tour in Tomb of Kheti in Egypt's Beni Hasan Necropolis…
Egypt hosts the ISSF World Shooting Sport Tournament. Enjoy a virtual tour in the tomb of Kheti with its colorful illustrations of various sports, in Beni Hasan necropolis, provided by Egypt's Ministry of Tourism & Antiquities. Read Full Story…
Egypt Today du 23 fév. 21 : Egypt's Min. of Tourism & Antiquities presents virtual tour of Abu Simbel Temples…
After the unique solar alignment phenomenon on the sanctum of the iconic Ramses II temple, which takes place on February 22 and October 22 every year, Egypt's Ministry of Tourism & Antiquities and NAV3D present a virtual tour inside this amazing temple. Read Full Story…
Egypt Today du 4 fév. 21 : Haven't yet visited Egypt's Abu Simbel Temples? Now you can, virtually!…
Abu Simbel Temples launched a number of virtual tours that enable visitors to visit the temples, and listen to historic stories about each place, in a bid to meet many people's eager to listen more to Egyptian historic stories while abide by COVID-19 precautionary measures. Read Full Story…
Egypt Today du 28 déc. 20 : Egypt's Min. of Tourism & Antiquities launches virtual visit to Egypt's Museum of Islamic Art in 3D technology…
On December 28, Egypt celebrates the 117th anniversary of the opening of the Museum of Islamic Art in Cairo. Egypt's Ministry of Tourism & Antiquities enables enthusiasts to explore the museum in 3D technology. Read Full Story…